Fear-Free
Certified
Trainer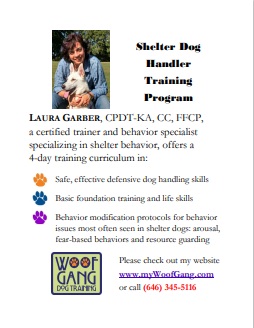 A successful shelter behavior program requires training shelter staff and volunteers in defensive dog handling, foundation training skills, behavior modification techniques, and adoption and post-adoption counseling. Because the plight of shelter dogs is Laura's mission, she has designed a 5-day training curriculum to teach these safe and essential skills to shelter personnel. Contact Laura Garber to arrange for a 5-Day Shelter Dog Handler Training seminar in your shelter!
Download the 5-Day Shelter Dog Handler Training seminar poster and curriculum.
Resources for WoofGang Shelter Partners
Impulse Control &
Anti-Jumping
Treating
Arousal
Treating
Resource Guarding
Companion Behaviors
Hand Targeting
Intro to the
Gentle Leader
Desensitizing to
a Muzzle
Desensitizing to
Handling
What is a Pit Bull?
In-Shelter Enrichment
Enrichment for Shelter Dogs
Enrichment for Shelter Cats
Resources for Shelter Dog Adopters
Adopting a Shelter Dog
Doggie Day One
Taking Home your
New Dog
How to Housetrain
your Pup
How to Crate Train your Dog
Stuffing a Kong
Fit for a King
The Bark Stops Here
The Mouthy Dog
Cats and Dogs
Dogs and Kids
Puppy Socialization
Keeping the Peace in
a Multi-Animal Household
Check out more
WoofGang articles!...
Home Alone
Loving a Shy Dog
Resources for Shelter Cat Adopters
Kitty Day One
Taking Home your New Cat
Cats -- Five Grand Ideas
Find more resources on
My PurrView!...
Thinking Inside the Box
Cats and Dogs
Resources from Other Sources
American Veterinary Society of Animal Behavior (AVSAB)
statements on
Positive Training and a Fear-Free Initiative
,
the Use of Punishment
,
the Dominance Theory
, and
Puppy Socialization
Body Language:
Lili Chen on
Dogs
, Dr. Sophie Yin on
Fearful Dogs
, and Lili Chen on
Cats

Shelter Recommendations

"When it comes to training and enrichment, Laura Garber is the dog's best friend. She is the real deal because she has the knowledge, experience, and tempera-ment to work with dogs of every breed, size, and disposition and deliver the kind of results that are well worth the investment of time and money. As the CEO of the Pennsylvania SPCA, the nation's second oldest humane organization and one of the largest, I had the opportunity to see Laura's work on a daily basis. She is passionate, well organized, and always looking to learn more so she can be the best at her work. I recommend her with great enthusiasm and without qualification."
Jerry Buckley, Former CEO, Pennsylvania SPCA

"Laura took the PSPCA's behavior function from sparse basics to a robust program with significant impact in a very short period of time. The program goes beyond animal handling and evaluation to include behavior modification and individualized plans for a wide range of needs. Her "behavior on a shoestring" concept extended the reach of her expertise across staff and volunteers of all skill levels to help as many animals as possible. Laura has also been a valued colleague. I worked with Laura on our transport program, where she was an insightful and collaborative partner who helped build and refine this new program. Working with Laura has been a true pleasure, both as a co-worker and in observing the amazing impact she's had on so many animals."
Linda Torelli, former Director of New Program Development, Pennsylvania SPCA

"Laura Garber is my go-to resource for canine behavior modification and training. Her extensive education and training ensures veterinary approved compassionate methods are utilized. Furthermore, her passion for dogs and dedication to each client results in improved outcomes and a strengthening of the human-animal bond."
Dr. Jeff Stupine, VMD, Former Head of Wellness, Pennsylvania SPCA

Shelter Testimonials

"You worked tirelessly to improve the lives of the animals at the shelter, implementing many wonderful programs. You had a vision of what the behavior department could be, and then built it from the ground up. Because of your energy, passion and drive, hundreds of dogs and cats were able to find homes. I'm grateful to have been able to work with you -- you taught me so much and I have enjoyed being part of the behavior team."
Rene, Behavior Intern & Volunteer, Pennsylvania SPCA

"Laura, I learned so much from you, and I have used your teachings with my own dogs, and I am not shy about sharing what I have learned. You have an incredible common sense and decency in the way you approach each animal. I hope you continue to teach and spread your philosophy to others."
Mary Kay, Volunteer, Pennsylvania SPCA

"You were a fantastic teacher at the SPCA, Laura. I don't think I ever would have had the confidence to adopt my dog if it were not for what I learned in your classes."
Justin, Volunteer, Pennsylvania SPCA

"You were such a strong and dedicated advocate for each and every animal. Your passion, love, and expertise were a true gift to the PSPCA. Like all the volunteers, I have learned so much from you about training, caring, animal safety and best practices all around. Your presence and good humor is greatly missed. I wish you much happiness in your next venture, and I truly thank you for all the animals you have helped... and thank you for passing on your knowledge to me."
Eileen, Volunteer, Pennsylvania SPCA

"Getting involved at the PSPCA over the past year has been transformative for me, and the way you opened up the behavior department has been an integral part of that. Thank you."
Aaron, Volunteer, Pennsylvania SPCA

"I started with the TOHAS walking dogs and worked at a job I hated. You welcomed me to participate in your desensitizing lessons and Buddy training classes. Because of you, I changed my career and now train dogs. I spent years studying and continue to study Canine psychology and behavior through an all positive school. You changed my life. You helped me save dogs who were headed to the shelter. Because of you, I gained the confidence to rescue and adopt a blind pit bull who was born in a shelter and remained in a rescue for 1.5 years until I found her. She is a smart, awesome dog who has a great life. You prepared me to save her and make her family. You have touched the lives of many people. You woke me from a bad job coma and helped me find my dream job as a trainer. I am forever grateful for you and the short time we spent together. You are awesome and a wonderful inspiration to people and animals."
Katie, Volunteer, Town of Hempstead Animal Shelter

"You are a phenomenal teacher and an inspiration. I learned so much from you at TOHAS, and I know others did as well. I know I've used what I learned with other dogs at TOHAS, my own dog, friends' and neighbors' dogs, all because of what I learned from you."
Patty, Volunteer, Town of Hempstead Animal Shelter

"I learned all I know about the correct way to train dogs from you, Laura. When we set up our rescue, it was you who taught people how to handle and understand dog language. And since you left, not one trainer has come close to your ability or heart."
Beth, Volunteer and President, Forgotten Friends of Long Island

"We miss you Laura. We learned so much when you were at Last Hope."
Terri, Volunteer and Board Member, Last Hope