Fear-Free
Certified
Trainer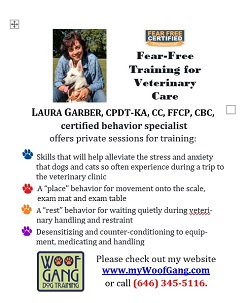 It's never too soon to build the skills that will help your pet accept a visit to the vet's office with ease. Even routine annual exams can be scary and, as pets age, their need for medical care is likely to become more frequent, so now is the best time to plan for a future of check-ups and vet procedures.

Contact Laura Garber to arrange for a Fear-Free Training for Vet Care session today!

Download the Fear-Free Training for Vet Care poster and brochure.
Resources for WoofGang Vet Partners
Home Alone
Stuffing a Kong
Fit for a King
How to Housetrain
your Pup
Dogs and Kids
Preparing Fido for a New Baby
Thinking Inside the Box
Adopting a Shelter Dog
The Bark Stops Here
The Mouthy Dog
Taking Home your
New Dog
How to Crate Train your Dog
Calming the Anxious Dog
Taking Home your New Cat
Keeping the Peace in a Multi-Animal Household
Cats and Dogs
Desensitizing to a Muzzle
Desensitizing to Handling
Puppy Socialization
Fear of Car Rides
Fear of the Vet's Office
Making Sense of Dog Play
Resources from Other Sources
American Veterinary Society of Animal Behavior (AVSAB)
statements on
Positive Training and a Fear-Free Initiative
,
the Use of Punishment
,
the Dominance Theory
, and
Puppy Socialization
Body Language:
Lili Chen on
Dogs
, Dr. Sophie Yin on
Fearful Dogs
, and Lili Chen on
Cats

Veterinary Recommendations

"Laura Garber is my go-to resource for canine behavior modification and training. Her extensive education and training ensures veterinary approved compassionate methods are utilized. Furthermore, her passion for dogs and dedication to each client results in improved outcomes and a strengthening of the human-animal bond."
Dr. Jeff Stupine, VMD, Medical Director of World of Animals

"It is with great pleasure that I write [... a] recommendation in support of Ms. Laura Garber. [...] My own special-needs dog, "Shorty" [...] is a young male mixed breed dog from the Caribbean, who suffers from documented PTSD, and has been a difficult and unpredictable member of our family since I acquired him. [...] Within a month of beginning training [with Laura], we began to see a glimmer of hope. She worked with Shorty for over a year, and in that time, he has become a different dog. He can socialize safely in many situations, his anxiety and anger levels have become manageable and most importantly, I feel like he now has a good quality of life, perhaps for the first time ever. I am convinced that without her intervention, Shorty would not be with us today. Laura's method of training involves compassion, kindness, boundary setting and appropriate discipline, and is fully in line with the accepted method of training set forth in veterinary medicine." (excerpted from a longer letter of recommendation)
Dr. Darlene Fletcher, DVM